Route Map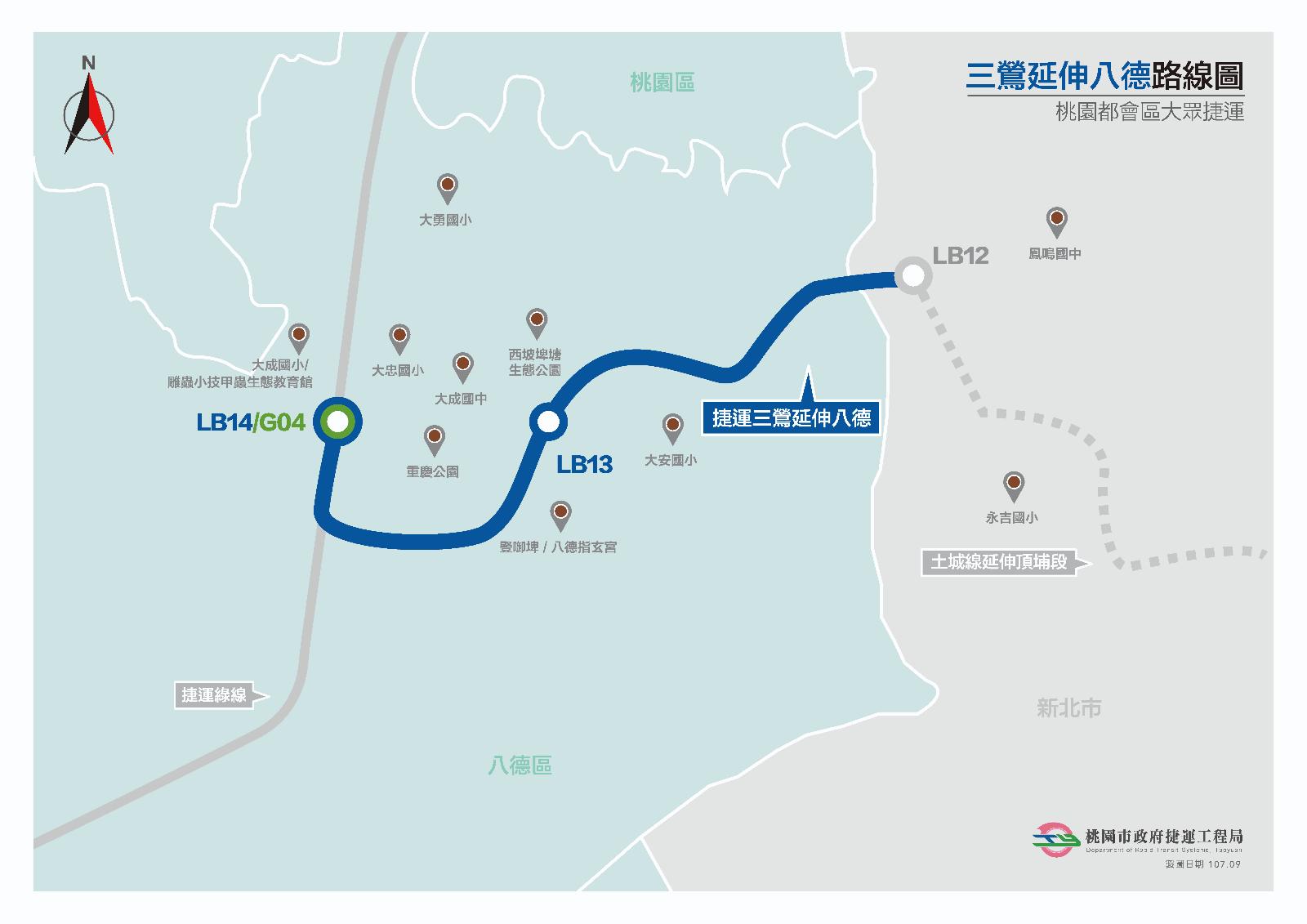 Download
List of station names and locations
| No | location | Station Type | Transfer Route |
| --- | --- | --- | --- |
| LB13 | 「Hechiang road to new-build Jieshou road」, close to Heping road and Shu Sian Resevoir. | sky-railway | |
| LB14 | Section 2 Jieshou road, close to Jinhe road intersection. | underground | Able to transfer to the G04 station of MRT green line |
(Currently, as the station locations have not yet been finalized, they are for reference only and still subject to the future project approval results)
List of station names and locations
(The following information regarding the plan has yet to be confirmed and should be used as reference only. The final confirmation should be based on the overall planning approved by the central government)
Origin: The Sanying Line is located at Yingge district, New Taipei City, only 3.9 km from Taoyuan Metro Green Line. If able to extend to G04 of the TYM Greenline, it will effectively connect the two metro systems between Taipei and Taoyuan. For this reason, Taoyuan County government authorized New Taipei City as the competent authority in 2013 for the launch of this project.
Purposes: due to the MRT Sanshia–Yingying line to be extended to the Taoyuan City's Bade linking with Taoyuan MRT green line station G04, and Tucheng, Sanshia, Yingying, Bade districts, the purposes of the project are to strengthen the Greater Taipei-Taoyuan metropolitan area's public transportation systems, combine MRT construction with the development zone along the route, so as to promote the overall development of Bade (Danan) and trigger the urban renewal opportunity, and improve the quality of the environment.
Benefits: It connects Tucheng, Danxi Yingge and Bade districts, connects Taoyuan Metro with Taipei MRT, maximizing the benefits of metro network, magnifying the living circle of Greater Taipei City and Taoyuan and stimulating the overall development of Bade (Danan).
Content: It starts from LB12 station of Sanying Line and extents in the direction of Bade Danan elevated section, passes Fude 1st Rd., Bade district and Heqiang Rd. till Jieshou Xinpi Rd. (in planning). LB13 station is situated close to the intersection of Xinpi Rd. and Heping Rd, close to the Heqiang Rd and Jieshou Road. It continues along Bade district (Danan area) and heads north, travelling underground at the Nanyuan Agriculture district of the Bade urban project, finishing at LB14 station located south of G04 station of TYM Green line, near section 2 of Jieshou Rd./Jinhe Rd. of Bade district. The line length is 3.9 km, consisting of 2 stations. The total budget cost is 11.64 billion, with 30.07% self-liquidation rate, central government subsidy of 5.085 billion, 3.053 billion to be paid for by Taoyuan City government and 3.504 billion in self-liquidation expenses.
計畫辦理情形
(一)本計畫可行性研究報告交通部於108年5月17日審查通過,經續陳行政院交國發會審查,國發會於8月26日審查同意支持,新北市政府依委員意見修正報告書後,於9月25日函請國發會辦理後續審議事宜。
(二)本府爭取中央於108年核定本計畫可行性研究,預計綜合規劃於可行性研究核定後2年奉行政院核定,並於綜合規劃報告核定後7年完工通車。